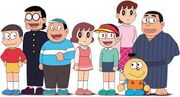 Write the first paragraph of your page here.
Kiteretsu Daihyakka
Edit
Kiteretsu Daihyakka also known as Kiteretsu encyclopedia or just kiteretsu is a science fiction manga series created by fujiko fujio which ran on childrens magzine Kodomo no hikari from April 1974 to July 1977 . The manga was later made into 331 episode anime
Section heading
Edit
Write the second section of your page here.